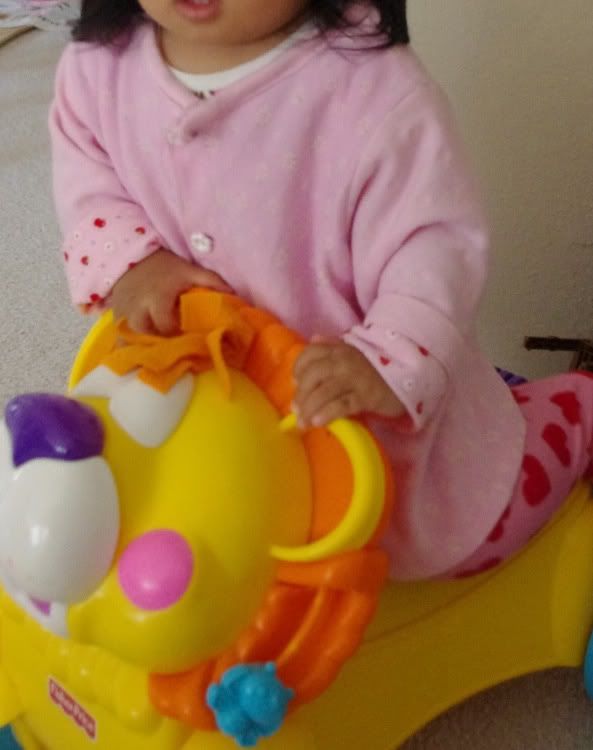 It's been pretty chilly here in Hawaii.
Ok, 75F really cold to us cold wussies.
I think this year has been really cold.
I don't remember my son wearing pants or jackets this often last year.
So ever since my daught was born last year, I haven't bought any long sleeves for my daughter.
She has gotten some as a gift but they are all still too big for her.
I think the only thing she has is a sweater cardigan, and that's what she wore to sleep few nights ago when the temperature was dipping by the time she went to sleep.
So i decided to make some pajama top for her.
I was debating if I want to make her a cotton jacket that she can throw on when it gets cold during the day, but I figured it's the coldest at night and I want her to sleep warm and comfortably.
She's been sleeping in her short sleeves, and I was constantly putting a blanket on her because she hates blankets and just kicks it off.
Ok, maybe this top was for me... So I don't have to worry about keep putting a blanket on her!
So I used two knit receiving blankets from when she was little that we no longer use.
Or should I say that she never used... We got them as a gift but she still had so much stuff from her brother when he was a baby, so we never got to them.
I forgot to take a picture of it, but they are both pink, one in a daisy flower print, and the other in apple print.
Neither of them were big enough to make a long sleeve top, so I decided to use the flower one as a bodice, and the back of apples (solid pink) as sleeves.
I thought the apples print was too loud.
It turned out ok except for my HUGE mistake.
After i finished sewing it up, it was time to make buttonholes.
I used the automatic buttonhole button on my Janome, and the fabric got eaten up.... Aaaaaaaagh!!!
I realized I should have attached some interfacing around the button area.
For that matter, the entire facing... Since my daught is only one, she pulls on to her shirt as hard as she can so she can look at the buttons closely. :p
Anyways It almost cut up the facing, but barely survived.
I thought about putting some kind of a tape in the back to stabilize it and take it off later, but decided to just make the buttonholes by hand sewing.
It's not as nice as the machine finish, but I really didn't want to mess up another hole and ruin the entire top.
It's still wearable and my daughter likes it. At least she got to sleep comfortably in her long sleeve top!
By the way, the sleeves were too long and I just folded up, but it ends up showing the apple prints, and I think it looks cute. :)
I should've finished the neck binding with the print size to match it. :p