Maria Denmark Kirsten Kimono Tee.
This was a free download pattern.
I just gotta say, it was amazing!!
I've used Digital patterns from several pattern companies, and this was the easiest to tile together.
On the corner of each sheet, where 4 sheets of paper meet, there's a circle and an X inside that you connect together.
The X gives more guidance and this seemed more accurate compared to matching a tiny square or small circle.
The instruction was very detailed, considering it's a simple tee with only two pieces of pattrns.
There was a photo instruction to make the neck binding strip from the same fabric.
There also was a detailed instruction of how to attach the binding strip to the neck.
I think this is the first pattern that I've seen with this much information on this.
It tells you what length to cut the binding according to the neckline length (85%) and divide it up in quarter section and attach it while you pull the strip.
The only thing is, I thought this quarter section method was a little off...
Since the front is a little longer than the back, if you divide the entire neckline equally in 1/4, there's less strip available for the front, causing it to pucker.
Next time, I'm going to cut the front and back neck binding separately...
85% of each length plus 4cm for seam allowance.
Ok, on my project...
I got this Houndstooth printed knit from FabricMart.
At first I wanted to make a dress but I thought a top will probably be more practical.
Then I saw this photo on Lucky magazine.
It's from Banana Republic ad.
Woooo, exactly the same color/print!!
I like it, but I know I won't wear long sleeves.
I was looking for a nice tee pattern, and found Maria Denmarks pattern.
I REALLY REALLY love this pattern!!
It's such a simple pattern, but it fits so good and I think it looks flattering.
I cut size XS and graded to S at the waist.
I'm normally so intimidated with knit and never happy with my neckline.
It always get wonky because it stretches out.
With this one, I applied a thin interfacing strip around the neck & sleeve edges.
And with the Maria Denmark's binding instruction, I think this is probably my best knit job ever!
I didn't add any interfacing to the hem, and noticed a big difference in difficulty.
I wish I added it to the hem as well.
I just entered a Mini-Wardrobe contest from Pattern Review.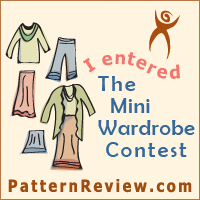 Since we've postponed the Japan trip and I've been home with my sick kids for past few days, I've sewn so many garments already and it's enough for the contest.
I know I'll probably won't win because my stuff are so simple, but either way it's something fun to do. :)
I'm debating which garment to enter to the contest...
For sure this tee will be one. :)