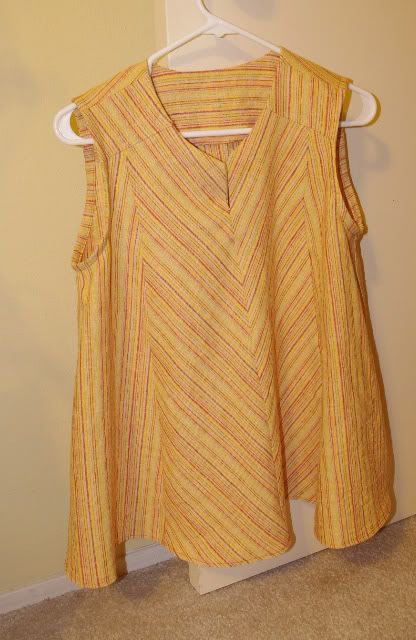 My sister-in-law got me Burda Style Handbook.
I was so happy!!!
Now I'm going tracing crazy...
I finished the muslin (tracing paper version) of 12/2011 dress 102, and since I don't have the fabric yet (I wanted to get Liberty fabric!), I decided to trace the blouse from Burda Style Handbook, Novita's version.
Few thoughts before I start to stitch this muslin paper...
You need to Trace patterns 1,2,3,4,5 and 7.
They mention that 3,4 don't need any alteration, and describes (with picture...nice!) how to alter 1,2 and 5, but nothing on 7.
7 is the front facing. I just traced as is.
Also from the technical drawing, I thought there was a back facing, but I guess it's just 2 pieces of back yoke.
The thing about this version is, although they show a clear alteration to this version, the added length/width is all the same for all sizes.
Just looking at the pieces, they all look pretty big, as I cut out size 37 (between 36 and 38) and added the same length/width as the biggest size, which is 46.
We'll see how it looks as I sew them.
1/1/2012 Happy new year!!
Update on this top...
I just love the new tracing paper...
I stitched them together and tried it on.
I did so many alterations and tried it on so many times, but the paper withstood all the handling.
Better yet, it just got softer like a fabric.
Anyways, on the pattern.
I just love Burda patterns... It just seem to fit me just right at the suggested size.
But as I suspected, all the flares looked too much.
I think it would be ok if the fabric is drapey (I think they used silk?) but I was planning to use linen blend, and I didn't know if it would drape that well.
So I took about 1cm off all the flares that was added to the patterns.
Also, i noticed that no matter what I make, my back always seem loose.
So i took in about 1cm from the center seams (total of 2cm) and also took in the side seams for 1cm only from the back pieces.
The finished muslin paperlooks really cute.
Tomorrow, I'll be cutting into the actual fabric!
1/4/2011
I finished the top, and love it! :)
Good thing I did a muslin fit, the altered back fit me perfect.
It fits me just right, and it's comfortable!
I didn't add the sleeves. I didn't think it would look right on me since I have broad shoulders.
Few things though, the armholes are kinda big...
I didn't notice it when I was making the muslin.
It might be perfect for layering, but it shows my bra if I don't wear anything underneath. :(
Another thing is, although it's a really cute design, because it flares toward the bottom, it might emphasize the hip if you have a bigger bottom.
Because of this reason it's hard to style the bottom with this top.
I don't think you should wear anything baggy to go with this, but it didn't look right with leggings either. :(
The best thing was short sgorts, but I tend to get cold and cramps if I wear anything too short for too long. :(
Hmmmm.....
If I was to make this again, I think I would lengthen the bottom and make a dress. :)