I'm going to mix two patterns.
I got this really pretty royal blue stretch charmeuse.
I wanted to make a top for my son's birthday party this weekend.
I thought about making a dress, but I thought it's probably not a smart idea to wear a dress when you have to chase a 1-yr-old wanting to play with her brother at his bday party.
So I wanted something that's cute and comfortable but nice enough.
I'm thinking about combining Burda magazine 6/2011 top. #101 with Vogue v1152 sleeves.
I think #101 is cute but it seems too plain to use with a charmeuse... It needs a little more "umph".
I love v1152 dress that I've made a muslin in the past but never got to make it in real fabric...but it's too complicated to make it in a week!
I love the sleeves on this dress, so I thought about just using the sleeves.
I have a t-shirt in similar style (v-neck facing with gather, long puffed sleeves) and it's one of my favorite, so hopefully it works.
I traced and cut the patterns out today.
I was expecting to do alot of adjustment to the sleeves to fit the shirt, but it actually fit!
The shoulder curve seams fit just right, it was just a little longer width.
I didn't want to just cut it yet, so I decided to adjust it after I stitch them up. (My good o' sewable tracing paper!)
Oh yea I also raised the neck by 5cm.
Just by looking at the picture in the magazine, the neckline seemed too low.
I'm getting tired of all these low necklines that I have to wear a camisole underneath.
I traced the neck facing and put it on me, and yup, it was too low.
It took me awhile to figure out how to raise the neckline on the gathered v-neck, but I thought "oh heck, let me just try it out... The placement of the shoulder shouldn't change, so I would just raise the center of the neck facing and the bodice by 5cm and connect the line to the shoulder seam.
It seemed to work... I just really wished that I had. French curve ruler.
I wonder if the fabric store here would have it?
I also hope I can still fit my head through! Haha
Since it's a stretch charmeuse, it should be ok...
Anyways I will be stitching my muslin tomorow...
Hopefully it doesn't take too long to make this top. I want to make a trouser to match this!
( the muslin has been done on this trouser pattern)
1/25/2012
So here's the result, and I love how it turned out! :)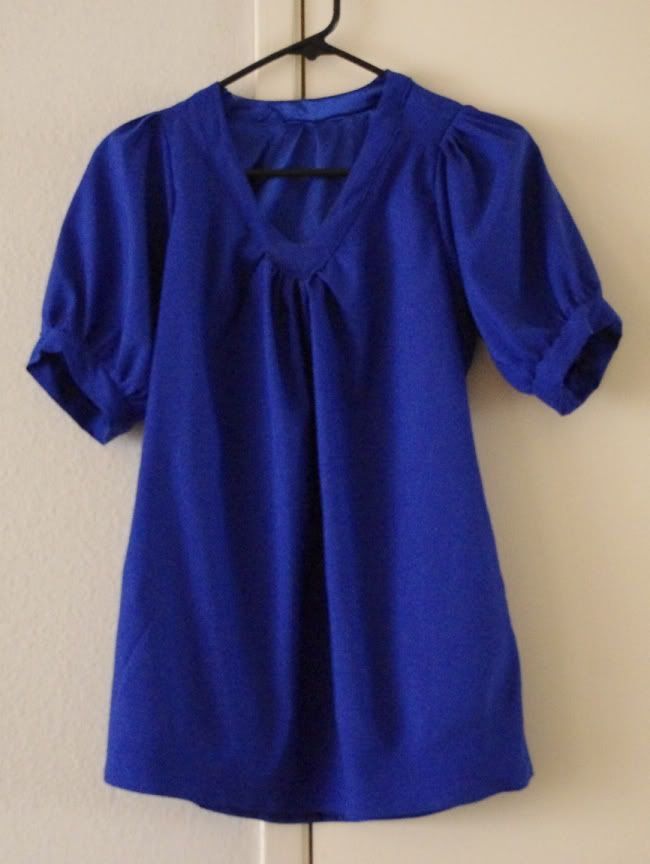 Her'e's me wearing it. (...over my pajama pants...)
I ended up raising the neckline by 4cm, as i could barely fit my head through with 5cm.
I think this was the perfect position. I could fit my head but it's still high enough that you can't see anything even when I bend down.
I ended up using the wrong side of charmeuse.
The shine on right side is pretty, but I thought it would make it too formal, and I would get more use out if it's not too flashy.
The wrong side still has a nice dull sheen too it (i heard it's widely used as "reverse charmeuse"), that it's not too boring.
I also wanted to make a belt for this top, as the hem is too long (but I didn't know if it would look good shorter), but unfortunately I ran out of the fabric. : p
Overall I love this top and the pattern.
I like #101 pattern. It's simple but still looks good.
I want to make another top with the sleeves from the same pattern, and also in sleeveless.