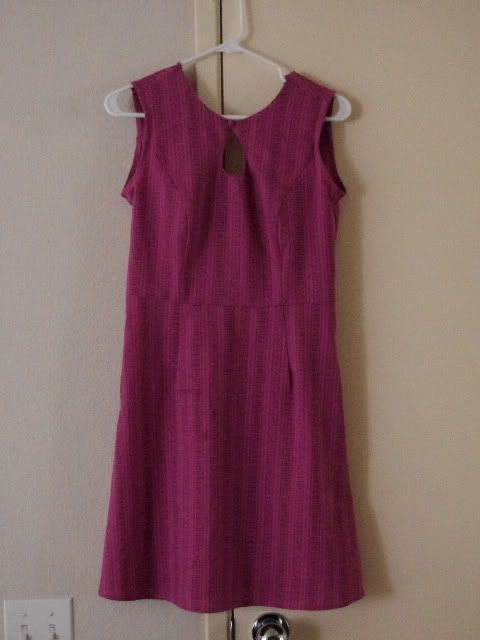 I made this dress using a dress pattern from BurdaStyle Sewing Handbook.
I've been impressed with Burda's patterns... They just fits so good.
I cut my size 37 (in between 36 and 38) and it fit finr, I just had to ease around the waist because my waist is about 40 but it was fine with 37.
I like how it's figure-flattering with princess seam and not-so flaring skirt.
I'm used to skirts more floay, but I actually like this style.
The more I sew, the more I'm amazed with all the small details that goes into garment making.
Since I didn't want a lining, I made a facing for the front and back so I can turn over the neckline with cleaner finish.
But I've attached the front and back separately, and now got a little gap between the front and back shoulder seams.
I realized "ohhhh, that's why you need to sew the front and back facing together first, then attatch to the main fabric."
This is what happens when I venture out of the instruction. :p
The only thing I don't like is the hole on the chest.
It's a cute design, but it shows the cleavage (and everything else if I bend down) and I'm just not used to it.
I'm wearing it with a tanktop underneath but since the fabric is thick enough, I really don't want to wear anything.
It bothers me so much I'm thinking about taking it apart and put in a new front, maybe with v-neck.
It's daunting to think about ripping apart all the work I've done, but I'll probably get more use out of it if I fix it.
By the way I made this with a quilting cotton fabric that I bout when www.fabric.com was having a sale.
It was $1/yd and I only used about 1 1/2 yd, so The zipper cost more than the fabric.
So far this has been a $4 dress!
I wanted to make a matching fabric belt for this.
2/10/2012
Here're some updates on this dress...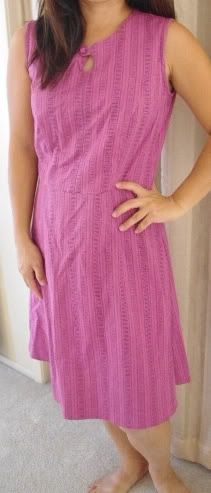 I ripped apart the front pieces and made the keyhole smaller.
I like it MUCH better. Now I can wear this alone without wearing anything underneath, and it's more comfortable.
I was dreading it but once I got the hang of unthreading the stitches, it wasn't too bad.
And once I got them off, it was only few steps and not the entire dress, so it went pretty fast.
I'm glad i decided to fix it, rather than have it just sit in the closet because I didn't like the keyhole.