I missed few days in blogging...
My entire family was sick for the month of February and March one by one, round and around...
But that's not the reason.
It's because the kids are better, and they've been playing at the park for 2-3 hours everyday, and I'm running around with them.
So I've been passed out at 8pm when I put them to sleep.
I have time to sew here and there, but I didn't get to reach to blog.
Anyways, my current project is Simplicity 5581.
My husband actually asked me to make him and my son a matching aloha shirt.
Whoa, I was shocked.
You mean, I can sew YOU clothes?
You trust my sewing skill that much?
Well, my sister-in-law asked me to make a bridesmaids dress for her friend's wedding.
I guess she trusts my sewing as well.
Or is it that people are catching up to the fact that it's cheaper to let a sewaholic make them a clothes than buy RTW.
Especially my SIL, I don't blame her as her friends are spending $200-300 on RTW formal dresses.
Off the track again.
So far, I'm almost done with my son's shirt.
All I need to do is attach sleeves.
I just hate facings!!!
I know it makes a nice finish, but I can never get them right... Either not being able to turn the corner right,
or not being able to match the markings, etc.
Well I'm glad I worked on my son's shirt first.
As the men's pattern is the same, I'm getting a practice.
Afterall my hubby is the more picky one.
We have a birthday party to go to this weekend. I thought it would be cute to finish both by them and have them wear it at the party, but most likely not...
I thought the party was next weekend so I was taking my sweet time. :p
3/29/2012
Well I finished my son's, and I'm pretty proud of it!!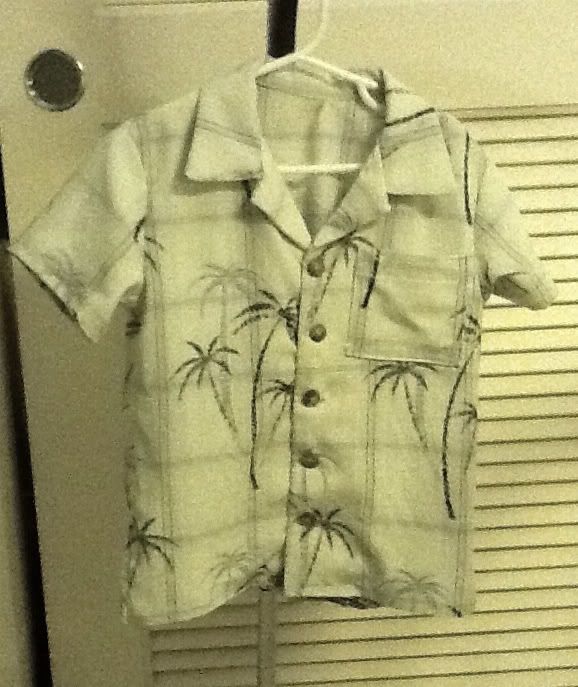 Funny thing is, I FINALLY learned that you have to "ease" the sleeves, thanks to Colette Sewing Handbook.
I don't think alot of pattern instructions don't mention it, so I was always wondering why the sleeves are longer than the armholes.
I always thought I traced it wrong, or the pattern was wrong... Now I know, and I love how this shirt came out "the right way"!!
I still have few negatives on my skills (buttons a littl crooked, serger seams raveling inside...
But I think it's really nice and my son loves it.
Off to make my hubby's!
Oh by the way, I got this fabric from Walmart.
It's a silk blend, and was $5/yd.
I thought it's a really nice fabric for the price.
It was total of $17.50 for both my son and husbands!
I think this is when sewing on your own pays off...
A normal cotton aloha shirt easily costs $20-30, so I can picture it can be $50-60 for a silk blend.
(only high end brands carry silk shirts anyways)