I was looking for a pattern to go with my first Liberty lawn, and thought this was perfect.
Alexander blouse from BurdaStyle downloadable.
http://www.burdastyle.com/projects/alexander-blouse?all_images=1#project-shot-all
Burdastyle calls their pattern shop "your kind of candy shop".
They are so right. I spent some time looking through the patterns, and it's so temping when the price is $3-4.
(when it's $5.60 it makes me think a bit... Burda magazine is about $10 with almost 60 patterns, but these are close to $6 for just one pattern?)
I couldn't resist this pattern this pattern though.
I didn't think you see these details in the patterns in the magazine.
I printed them, cut the frames off (they say to fold the frames but I prefer to cut them off), and i'll be tracing them and working with sewable tracing paper tonight.
As it looks like a fitted top, I might need to do some adjusting to make it perfect...
I also want the peplum a little longer.
Not so used to short tops...
2/8/2012
I just finished making the paper muslin yesterday.
Boy this was an interesting pattern.
I thought it was their print error when i saw the pattern layout diagram, and I noticed that gront and back pieces were together as one.
But it actually IS one pattern!
After tracing each pieces, you are supposed to attach each pattern at the sleeves.
Then there's a slit to make a gather on the shoulder.
It made me think how I'd serge it, but I guess I just have to do it after they are sewn.
I also traced 37 bust - 41 waist - 37 hip for the first time.
Normally I just trace straight 37 and deal with it if the waist is a little snug.
But this pattern seems to be a fitted design, I decided to try grading the waist.
Boy what a difference it made!! It was so comfortable to have something that's just perfect size for you.
I guess I'm so used to wearing something (RTW) that doesn't fit me and deal with it.
I traced all lines between 37-41, just in case I wanted to use lower sizes, but I guess I didn't need to.
I'm ready to cut my fabric... The LIberty!
I read on patternreview site that the grain is a little off once the front and bak are put together.
i'm glad I read it first... I probably wouldn't have noticed it, or even if I do i probably would've thought it's somehow my fault, not the patterns.
2/10/2012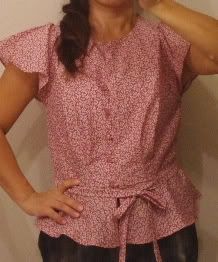 Taaaada!
When I first got this Liberty fabric I wasn't too impressed, probably because I had a very high expectation.
But now I finished this blouse, I love it!!
It feels so nice on the skin. I can't believe it's a cotton!
The pattern doesn't really tell you where to place the buttons.
I assumed that you match the center seams together, and place the buttons where the loops are.
I was a little worried that you might be able to see underneath between the buttons.
But because the buttons are placed fairly close together, you can barely see anything.
I like this pattern, but few negatives (my preference).
I don't really like how the sleeves flare out. I think it depends on the drape of the fabric, and how the shoulders are gathered.
I can never get the gathering right. :(
Another thing is, it might be hard to coordinate with my bottoms.
I have alot of low rise pants, and this top will show my belly through the center below the waist. :(
I can avoid this if I wear a cami underneath, but I was so happy that I finally made a top that I don't need to wear anything underneath. :(
I think this would look great with something like a pencil skirt, which I don't own. :(